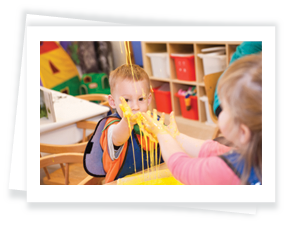 About Us…
Kids Count is a warm and inviting, family run childcare facility in Hartford open from 8am to 6pm.  We offer part-time and full-time childcare for children aged 0-14, designed to meet the demands of your life, and the ever-developing needs of your child. Established in 1994, we have a long history of providing great childcare for local families.
All Wrapped Up
When you have a child, your life changes in a myriad of ways, from huge to tiny and from easily manageable to seemingly impossible; and when you return to work, it can seem like a whole new level of complications has arrived.
We've all been there, and we know exactly how it feels. We also know exactly how it feels to place your child, at whatever age, into the care of someone else. This is why at Kids Count not only do we offer a full 'wrap around' childcare facility, but deliver the kind of loving care you want, and need, for your child.
Why choose Little Kids Count….
Founder Cath Lester established Kids Count in 1994 to meet a very personal need – flexible and fabulous childcare for her own family. Everything Cath did then, and which continues now, was driven by a single, unwavering ethos: 'My child deserves the best there is, and I am going to deliver it.' While Cath is no longer with us, her and our ethos hasn't altered, and you can be sure that your child will receive the best care there is.