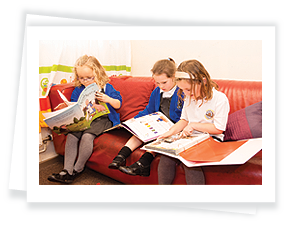 About Us…
Kids Count is a warm and inviting, family run childcare facility in Hartford open from 8am to 6pm.  We offer part-time and full-time childcare for children aged 0-14, designed to meet the demands of your life, and the ever-developing needs of your child. Established in 1994, we have a long history of providing great childcare for local families.
Making Life A Little Easier
Working parents have it tough. Not only do you have to meet your children's demands, but your employer's too. And it doesn't get any easier when your child starts school, in fact, the opposite can be said to be true! Add to this a sprinkling of parental guilt, and it can seem like the world is against you.
We know, we've been there! That's why at Kids Count we offer a before and after school club and a holiday club that your children will love to attend, meaning that not only will you be able to balance everybody's needs, but you can ditch the guilt too, knowing that your child is safe, happy and having fun!
Why Choose Big Kids Count….
Founded in 1994, by Cath Lester, Big Kids is what we call a 'child led setting.' This means that every child has the opportunity to have input into the activities at the before and after school clubs and the holiday clubs we operate.
We all have treasured memories of those endless school holidays of our youth, and it is our objective to allow the children in our care to create their own treasured memories. To make sure this happens, we take an unusual, but highly effective approach – we're spontaneous. You know that the best days are those when you throw the kids in the car, pack a picnic and head off for some unplanned fun – well, we do too; so we do it! But don't worry, we make sure that every activity is carefully assessed for risks, as well as rewards.
From days out to den building, a walk for an ice-cream to junk modelling, we make sure your child's day is as packed with activity as you could possibly hope. With Big Kids Count, your child will have a school holiday to build memories from.